The documents below contain details of Services that the Holyhead Town Council provides to the community through the Town Precept.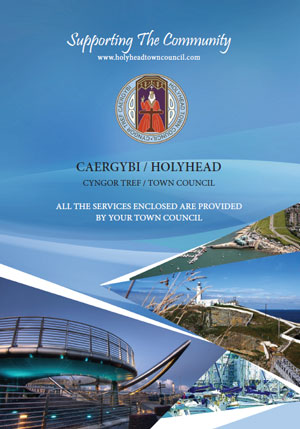 Services that the Holyhead Town Council provide to the community through the Town Precept due to the money raised through the Empire, Left Luggage, Town Hall hire the Town Council is able to keep the Precept low and invest the money raised through these projects for other commuity services like the toilets in Swift Square,CCTV and Play Areas for the Children. the following is what you pay if you live in a band 'A' property £1.47 per week; for a band 'B' it is £1.71 per week; for a Band 'C' it is £1.96 per week; for a band 'D' it is £2.20 per week. The Town Council does not receive any Finance from the Business Rates.
These are some of the services provided:
Finance 87% of the cost to run Maeshyfryd Cemetery 13% financed by Trearddur Bay Community Council.
Town Hall including hall hire, Chamber hire and office hire
Empire Cinema
Empire Play centre
Y Parc
Cenotaph
Partly responsible for the Town Clock
Dutch commemorative Plaque at Newry Beach
Public toilets at Swift Square in town and Newry Beach.
CCTV system for the town
Manage the six bungalows (Penrhos Alms-houses) in Kingsland for the elderly
Newry Beach play area
Kingsland play area
London Road play area
Llanfawr Road play area
Old School Road play area Llaingoch
Lon Newydd play area Llaingoch
Peibio play area
Carry out checks on the play equipment in Gwelfor Community Centre
Various horticultural contracts with local authorities and businesses
Responsible for information signage around the Town.
Most the bus shelters around Holyhead
Litter pick the Celtic Gateway Bridge and also clean the steelwork on contract to the Anglesey County Council
Give donations to local charitable causes including the Holyhead Leisure/Maritime Festival
Provide 26 sustainable jobs in the town
75 Allotments in Plas Road
Christmas lights in the town
The Town Council is consulted on Planning Applications for the town but the final decision is taken by the County Council's planning committee
The 16 Town Councillors give up their time and can claim £150 allowance per annum plus attendance allowance.
The Town Council will continue to work closely with all developers who wish to come to Holyhead to ensure that local people are given priority for the jobs created and for wherever possible, community benefit for the town
Meetings are open to the public. Minutes are on the Council web site for information.
Each Primary School Child going up to High School is presented with a Dictionary by the Town Council.
Holds various community days.
All of the above services would be at serious risk if the Holyhead Town Council was dissolved.
The following services are not the responsibility of the Holyhead Town Council.
Please contact the county council or your County Councillor for the following services.
Grants to Businesses or Individuals
Highways Including Parking and Yellow Lines
Housing
Final decisions on all Planning Applications.
Social Services
Street Lighting
Waste disposal